Uniform Cohesion: The Art of Team Dressing
August 18, 2021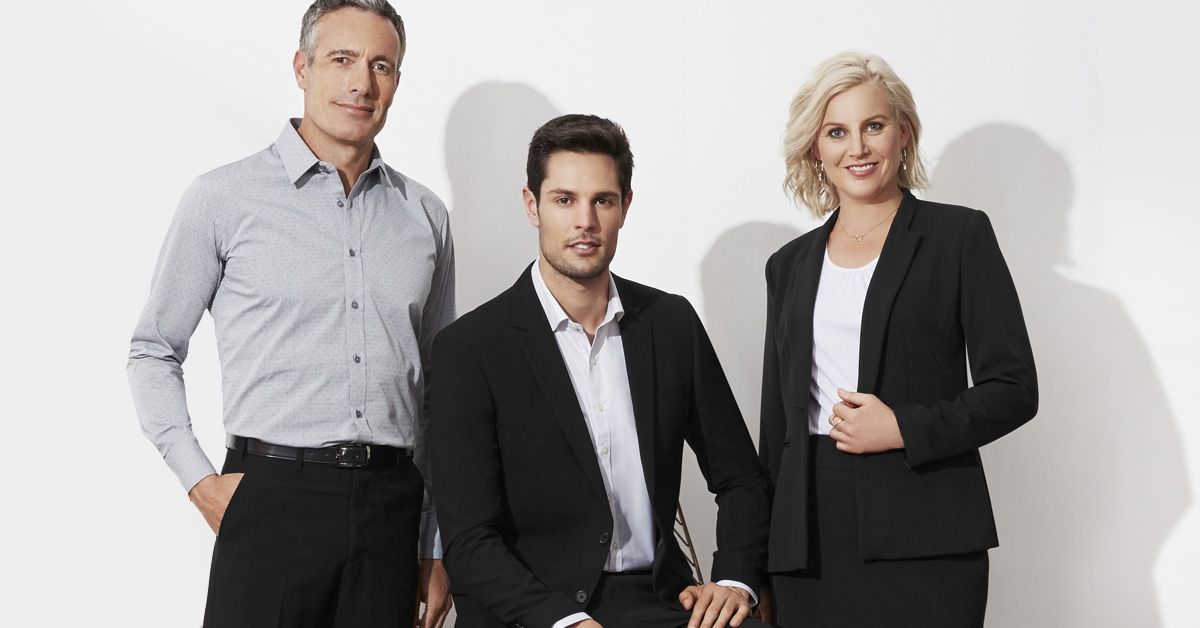 From casual dress codes to strict uniforms, team dressing is often an art form within the workplace. Trying to find the perfect thing to suit everyone can be a challenge. When done right, team dressing can truly encompass a company or team brand and create a sense of belonging among employees or teammates.
Whether its team dressing in the office or team dressing out on the sporting field, both create a sense of unity and cohesion as well as bring out a bunch of benefits for your crew. It's time to explore some of these benefits in more detail.
Team dressing at a glance
Team dressing, team uniforms, staff apparel, dress code – whatever you call it – is the act of everyone following a specific code set by their employer. This often creates unity and a sense of belonging among those who work there and adhere to these guidelines. It can also be present within sporting teams who usually dress in one matching uniform to create a united front and ignite team spirit. Biz Collection Canada Sales Executive, John Agnew shares his thoughts on uniforms, saying 'team uniforms encourage the unity of teams and keep players motivated to perform better on the field whether that be a playing field or a workforce team.'
Team dressing doesn't have to be looked at unfavourably and it should be looked at as something highly beneficial for others.
Why is it beneficial?
There are many ways in which team dressing is beneficial both in the office and on the field. These include:
Builds team spirit – Dressing as a team can provide the above-mentioned team cohesion as well as team spirit building which can improve worker productivity.
Free advertising – When you wear a uniform, you turn into a walking billboard for your company or sports team. Word of mouth is one of the most positive forms of marketing, so what better way than to show off your company in a fresh, professional kit? Looking neat and professional will make potential consumers take notice of your brand, or if you're in a sporting team, a nice uniform can potentially encourage others to join up too.  'A uniform is an extension of a team or company brand, and a vital opportunity to make a statement about what your organization stands for' John adds.
Tax-deductible – A benefit of staff uniforms is that (depending on what country you're in) they are tax-deductible meaning you can claim them back on tax. Many places will also let you claim laundry back on tax too.
Time-saving – Having a dedicated uniform can save thousands (in our opinion!) of hours spent trying to decide what to wear. As busy humans, we often see ourselves as time-poor, so deciding what to wear every day is one less thing to worry about.
Creates unity – Having a uniform or engaging in 'team dressing' creates a sense of unity within the team, as the uniform becomes part of the branding. 'I believe all companies should have a unified uniform' says John. 'When employees all wear a uniform, it creates a unified image for the company. The uniforms create a professional appearance and a set standard for customers and clients to expect to see. The uniforms also help create a sense of unity among the staff.'
Professionalism – A uniform makes everyone fall into line and look professional provided they're wearing it properly (e.g. tie done up, shirt tucked in etc). This professionalism can speak volumes on how your team handles business. Having a team uniform also leaves little room for misinterpretation than having a 'smart casual' dress code does, meaning everyone will look the same.
Team dressing in sport
Team dressing in sport is one of the most important aspects when it comes to unity and cohesion. Whether it's the recognisable colours of a professional sports team, right down to the team colours at your local club, team dressing subconsciously teaches us a lot about unity and belonging. Sporting uniforms create a unique sense of identity for your team, with everyone wearing the same thing and representing one club or sport. They are also practical and designed to allow the wearer to perform to the best of their ability during training and competition. Most uniforms are made from special breathable fabrics and fibres to enhance performance. Having a team uniform is also important so players know who's who at a glance on the sporting field, as well as for spectators in the crowd to decipher who's who.
What Biz Collection Canada range will best suit team dressing?
Looking for a team uniform for the office or the sporting pitch? We have you covered! Some of our most popular team dressing ranges include:
Sports team dressing:
·       Hype
·       Razor
·       Renegade
Business team dressing:
·       Euro
·       Monaco
·       Metro
·       Oasis
Hospitality team dressing:
· ½ aprons
Promotional team dressing:
· Aero
· Victory
· Sprint
· Ace
· Apex
· Talon
We asked John what his favourite Biz Collection Canada piece was when it comes to team dressing. 'My favourite range of product is difficult to pin down' he says. 'I enjoy working with clients on all our ranges of product but if I look at what I often wear it may come down to our Hype jacket. It is one of our most versatile products that cross all client and market lines. It is at home on a sports team as it is in a national corporate program to regional McDonald's restaurants. I would say it is one of our most versatile products and continues to get more popular every year.'
Each of these ranges is designed with a specific purpose in mind, as well as being the perfect blank canvas for your team or business logo. It's important to keep in mind that every company or team have very specific needs for their uniform, as it is a very personal choice. To find the best range for your team dressing needs, head into your closest distributor and chat with one of our friendly team members who will be able to assist with your new uniform.